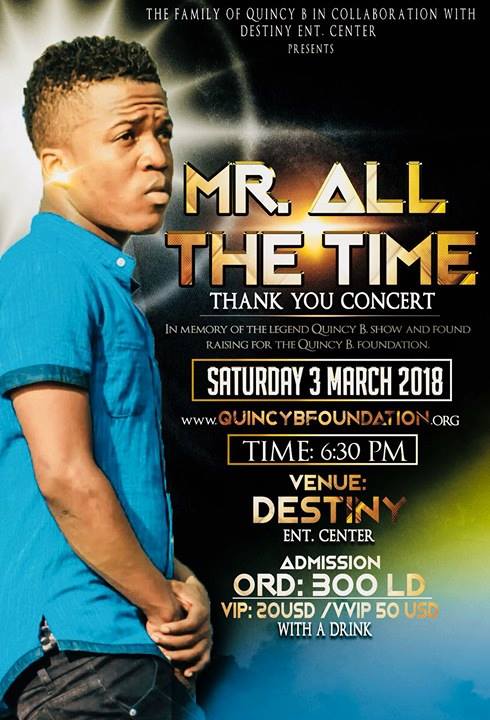 THANK YOU CONCERT FOR Quincy B (Mr. All The Time)
Quincy's Voice

FOREVER
I may be invisible to your sight
But I am forever here.
You may not hear me speak
But I am forever whispering in your ear.
You may not feel my touch
But I am forever by your side.
You may not feel my presence
But I am forever going to remind you that my soul has not died.
You may not see my face
but I am forever smiling at you.
You may not know I'm there
But I am forever watching what you do.
I may not breathe the same air
But I am forever holding you.
And although I cannot be seen
I am Forever…like my love for every Liberian.
The atmosphere seems kind of cool and sorrowful on most faces and social media profiles of celebrities, friends, and entertainers in Monrovia for the loss of a megastar, a humble soul, a gifted individual and father of two kids who did not have the opportunity to see his kids.
Today marks a year since we lost him. As it will be no surprise a massive crowd is expected to be seen as was observed during the funeral of this young star.
Turn out and support his Thank You concert in collaboration with the management of Destiny Entertainment Center, Hearts Beats Records, Alms Records, and All-Stars Records.
All in recognition of his foundation QUINCY B. FOUNDATION.ORG
Comments
comments