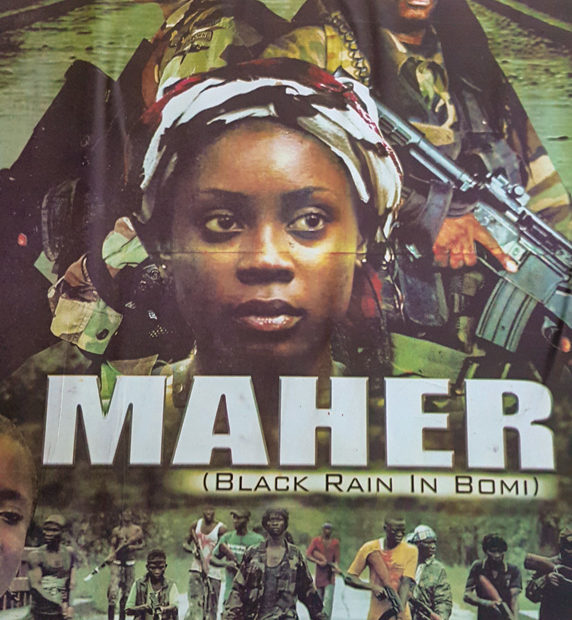 Liberian Movie- Maher Massacre featured at London Festival.
Monrovia – A 2016 Liberian movie based on the Maher Massacre in Bomi County recently screened at a London film festival to draw attention to sexual violence in conflict and to put an end to it.
Report by James Harding Giahyue, New Narratives Justice Correspondent
"Maher: Black Rain in Bomi" was among 38 films and documentaries screening at the first ever "Fighting Stigma through Film" festival, which took place between November 20 and 25 that was graced by Actress Angelina Jolie and Dr. Denis Mukwege, this year's Congolese Nobel Peace Prize winner.
Asked whether the screening of his movie was a motivation, Derick Snyder, who wrote, produced and directed the film, was affirmative. "With the support of international partners, most especially the British Embassy, that already recognizes the film, I will do more," Snyder said in an emailed statement shortly after his return to Liberia.
"In 2007, I went in Bomi as a journalist to get the story along with a Denmark TV crew. After the survivor explained the story of what happened in 2002, I said to myself, 'This story cannot just remain as a story in the media, but could be turned into a feature film that will serve as documentary for our coming generation,'" Snyder recalled. "I really needed the story to be told in a decades to come, and doc-features, is the best way," he added.
Jolie applauded Snyder and other filmmakers for their courage to tell the tales of survivors and victims of sexual violence in conflict. "Artists and human rights defenders often take significant risks to tell the truth about crimes committed against defenseless women, children and men during war," Ms. Jolie said in a statement as per the Forces Network of the British Army.
"Stigma compounds the suffering of survivors of warzone rape. It is an unbearable injustice on a human level, and it is a major obstacle to achieving justice for victims of these sickening acts of violence," Jolie added.
Films from Libya, Congo and Uganda also screened at the festival.
Last Massacre
Maher Massacre is one of the last massacres of the Liberian civil war (1989-2003). According to the Catholic Justice of the Peace Commission that investigated the killings in 2004, about 150 people were killed by pro-government militiamen under the command of Benjamin Yeaten, former Director of the Special Security Service (now Executive Protection Service) and Roland Duo, former Director of Port Security.
Both men deny any connection to the killings but are both listed among 98 "most notorious perpetrators" in the Truth and Reconciliation Commission  (TRC) report. The Liberian government recently reopened Yeaten's indictment for the murder of Isaac Vaye and John Yormie, two former government officials. 
Credit at Front Page Africa See full Story here FRONT-PAGE AFRICA LIBERIA
Comments
comments