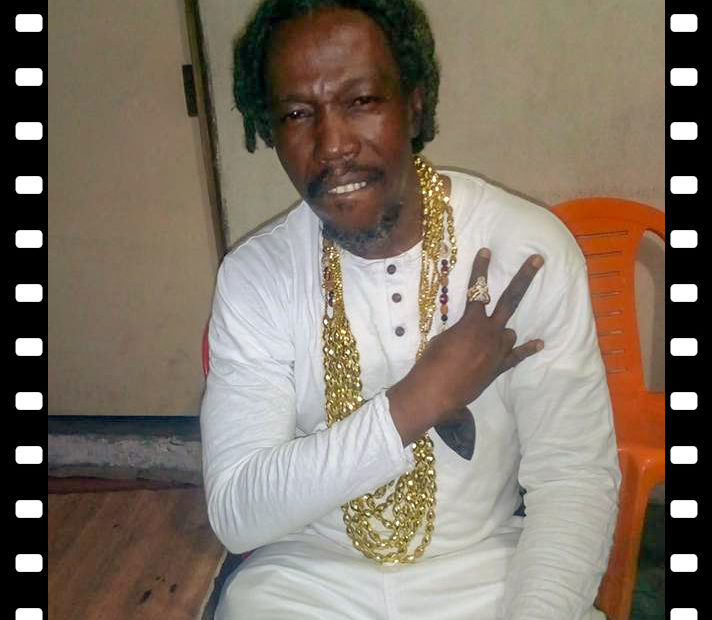 Dyers Myers (Hip-co godfather) Calls out for support.
Dyers Myers who has been a driving force behind Hipco and so many top artists today. Calls out for support. Having been an instrument in the lives of artists like Takun J, Nassieman, Christoph The Change and many other artists.
Mr. Myers released a press statement a few days ago citing allCEOs, DJs, Record Labels, Entertainment Bloggers, Musicians, Comedians, Producers, Directors, Promoters, Clubs, Fans, Media Designers & Photographers, Followers from the Genesis and the General Entertainment public. 
That he is interested in running for the post as President of Liberia Music Union in the upcoming Elections.
The Ministry of Culture sited all entertainers and the general entertainment public to a meeting on the 10th of this month concerning the growth of the industry and other key issues.
Which turn out to be successful.
So as it is often said when you put your mind to anything and work for it, things definitely go your way. See below full press release from DYERS MYERS EMPIRE Press & Public Affairs Bureau. Just as it was written on his facebook feed.
PRESS STATEMENT FOR IMMEDIATE RELEASE!
August 17, 2018
Ladies and Gentlemen of the Press, CEOs, DJs, Record Labels, Entertainment Bloggers, Musicians, Comedians, Producers, Directors, Promoters, Clubs, Fans, Entertainment Pundits, Media Designers & Photographers, Followers from the Genesis and the General Entertainment public.
We assemble here today in our mass UNDER THE BANNER "DYERS MYERS EMPIRE", to witness a ceremony that will go deep into our entertainment history and reflect our critical role played when Liberia's Entertainment wasn't a taste to the growing public during those days where honest men took baggage of insults only because of what they believe would have lighted to a success of this kind.
Reading through the lines of history, I have been made to understand man and his surroundings. Clearly, man live not because of what he has achieved personally but how positively he inspired generation to the discipline of progress. Though at times, our tides of life rise and fall but the focus of society keeps every great mind dedicated to its mission. Ladies & Gentlemen, we are blissfully aware that everyone lives with a mission, vision and passion. Not just an individual but every generation has its mission; whether the generation fulfill or fail its mission, society will still interpret such fulfillment or failure in the very perspective of the what suits the aspiring clique.
Fellow Entertainers, we must followed those who made themselves noble and submissive by bringing decency to the entertainment space we now enjoy today not key left-overs of insincere friendship clubs that squandered opportunities, suppressed young entertainers, impressed female entertainment falsely, discredited our rights to piracy, blinded our sight to unity and gobbled benefits that would have driven our path of entertainment to a noble height. On the contrary, our viewpoint of human understanding has made us to appreciate that the role to success is hallow when deeds of the past are not bold enough to be evaluated by the conscience of today. Simply because we made our own brothers and sisters our enemies and beef stuffs just to screw up promotions and platforms for the growth of our entertainment.
But then again, we must agree when men with sincere heart to affect a change are never placed in the spotlight, these happenings are bound to take preeminence in the very entertainment space that we all created as a mean to convey our thoughts on the progress of mankind and the growing entertainment society. It is in this kernel of great decision, we have come today to announced in our loudest tone that DYERS MYERS EMPIRE will vigorously campaign as a formidable force in upcoming National Music Union of Liberia Elections for the Godfather of Liberian Music, Emperor Dyers Myers as President. We take this opportunity to say clear here today, that we want all of you to rally and join the DYERS MYERS EMPIRE by campaigning Emperor Dyers Myers.
Our highly respectable Entertainers, you have a task beginning now and after here, to spread the message that the Emperor represents and the order and decency he hoped to give Liberian Entertainment Industry. Mince not your words, for the Emperor has no traced of corruption nor spell of any kind of dark deeds to suppress entertainment from the beginning when he served as MC to all street jams, wake-keeping, birthday celebration, etc. You have a character that is very easy to sell even in the regard of bringing Liberian Music to the door steps of the common people. You have a duty to forget not to mention that the Emperor harbored of the new breeds has put him at the admiration stage of the entire Entertainment circle. He has warmly provided welcome for every wandering talent that shows-up at his sight.
Ladies & Gentlemen of the Press, from now onward you are vested the power to reach out this call to every coverage of your network that the Emperor Dyers Myers, the Godfather of Liberian Music will be a formidable force in the upcoming Music Union Election. Notwithstanding, all entertainers are required to touch base so that their membership can be valid to the process.
We thank you all….
Signed: DYERS MYERS EMPIRE
Press & Public Affairs Bureau
+231776811809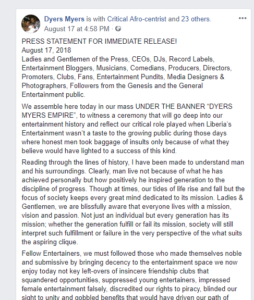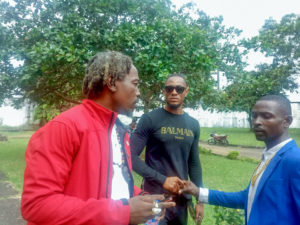 We were informed that the ministry has plans to host another meeting. Which we will be part of to cover the full happenings and when the election is to be held.
Mr. Myers is asking everyone to support him in implementing and enforcing those good things he has in mind for the industry.
We wish to hear and see more of his plans in coming months and how he intend to move this industry to the next level.
Stay posted for more details covering the election and Dyer plans.
Comments or share.
Comments
comments